Happy Healthy Goats Equals Delicious Wholesome Milk!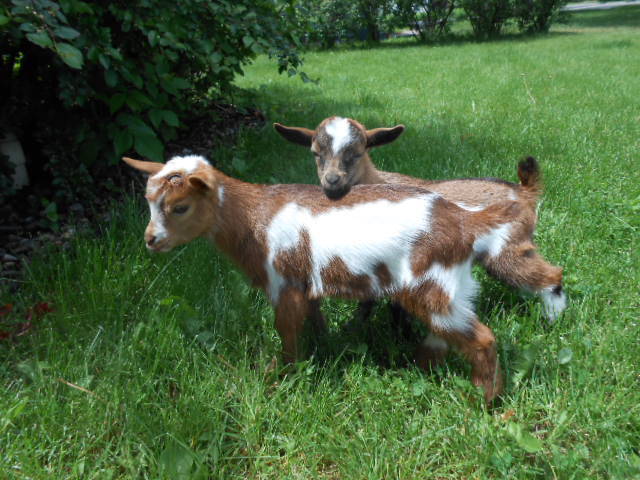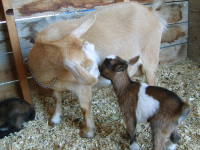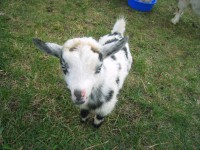 Goats are pickier than the common misconception of

"everything but a tin can". Dairy goats need good quality feed to keep them healthy with the highest levels of potential production. What a goat eats also affects what their milk tastes like.
We are trying to raise healthy high producing animals so nutrition is very important. Everyone has their own tips and tricks to herd management but these are a few things we do that work well for our goats.

We try for 16% or higher protein textured sweet feed for all milking does and dry C.O.B. for bucks and kids, with black oil sunflower seed mixed in to supliment nutrients and fiber.
We feed free choice hay about 70/30 grass alfalfa mix depending on the time of year
Several types of free choice supplements including Calf Manna goat mineral, Redmond Natural Salt licks, Rocky Mountian Livestock Mineral and Baking Soda
We treat our water with Apple Cider Vinegar to help balance the pH and we find it helps to keep the water buckets clean. This also is handy at shows when the water may be different, the vineger keeps the flavor the same and the goats stay hydrated. 

We don't give out too many treats because the girls can pack on extra weight really easy. Sometimes we will treat our goats with things like black oil sunflower seeds or trimmings from trees and shrubs.

For shows and small bribery we like plain dried banana chips and peanuts, plus the people can eat those too!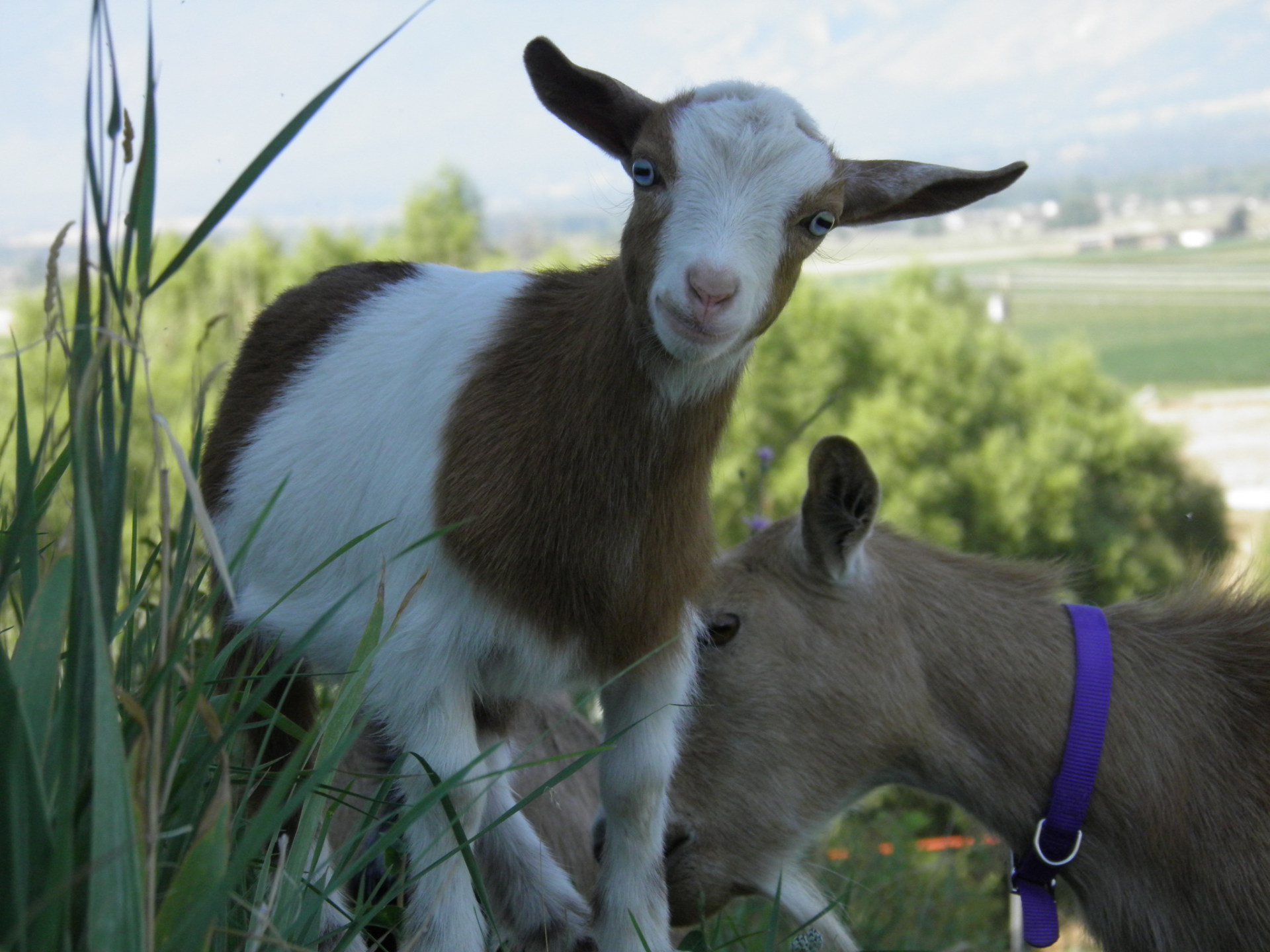 We are proud members of the American Dairy Goat Association.
W
e show and register our goats through ADGA.
​
Some of our does are registered AGS from when we first started but we prefer the resources and educational opotunities provided by ADGA and now primarly use the one registry.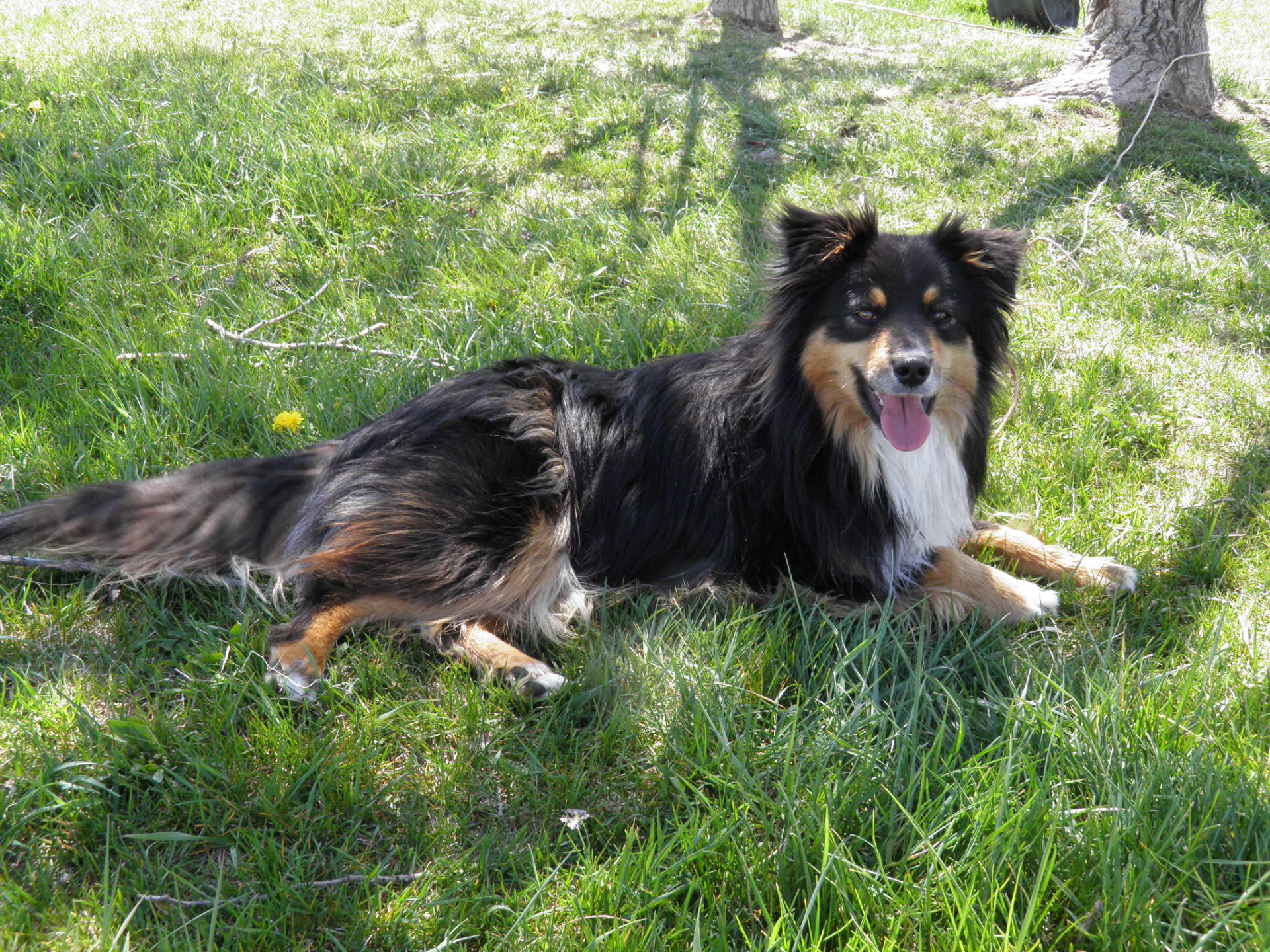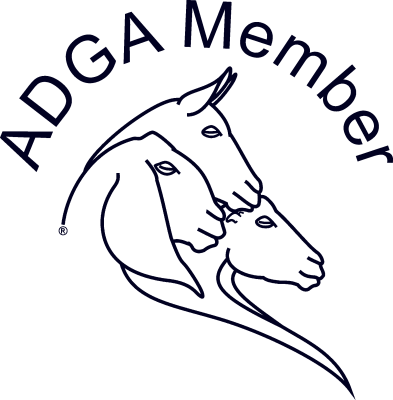 Sammy is our hired help, although we're not sure how much help he actually is! He is a miniature Australian Shepherd and nicely proportionate to our miniature goats. He is really great with the kids and very protective over the herd. Sammy loves getting the leftover milk and whey on his kibble and everyone always comments on how shiny and soft his coat is! Oh to be a spoiled dog...

We are not an "organic" dairy.  Why? Because the logistics work well if you're growing plants...animals not so much. We take the general well being of our goats very seriously and try to keep our herd free of pests, irritants and diseases. We are also located in an area where several types of disease carrying bugs and wildlife (mostly deer) regularly come through our pasture so biosecurity is a top priority. 

We vaccinate yearly for those parasites common in our area and use medication for flea, tick and lice prevention. 

Montana State law has strict regulations when traveling (for shows and in & out of state) to protect the wildlife & livestock within the state.

We do not attach the tags but have a scrapies tag  and ID for each animal. 

We test regularly for CAE, CL and Johne's disease.


New goats are thoroughly inspected before introduction to ensure herd health and no new germs are brought in.


If an emergency situation arises, we will use antibiotics to treat or prevent infections in serious injuries. In the 10+ years of Coyote Kidz, antibiotics have only been used twice. Once for injuries received from a dog bite on a wether and once for a doe who had an emergency C-section....knock on wood.
All of our goats are more than producers, they are family. To maintain "organic" status you must remove or destroy animals treated with vaccines or antibiotics, but we chose to put our animals welfare first. If its treatable we treat it and if it's prevantable we want to do our best to prevent it. 

Once we have advanced enough treatment options for organic animals we will galdy become cirtified organic. 
We try to feed and maintain things in as natural and holistic way as possible to keep all the kids happy and healthy!